How companies & organisations can support our work
The Rotary Shoebox Scheme is becoming increasingly popular with companies wishing to support a charity that can involve all the staff and their families. Our scheme runs all year round (not just at Christmas) and offers you the chance to provide a drop of happiness by giving a gift to someone less fortunate.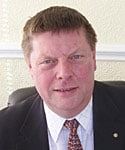 Here's how it works.
Contact Colin Ince by the form at Contact Us
• We will deliver the shoeboxes to site – please note we only use our own specially produced boxes.
• Invite your staff to take a box home and fill it with gifts. Remember that we give shoeboxes to people of all ages so make sure that they fill in the details on the lid of our specially produced shoeboxes so we know who to give it to.
• Ask for £2 donation with each box as a contribution towards the cost of transport. This you keep to offset the purchase cost of the box
• Contact us when all your boxes are ready for collection and we will take them away.
It's that simple and we may also be able to find a local Rotary Club to support your collection and make a presentation to your colleagues.
Click on the links above to see happiness delivered and for more information.
We look forward to hearing from you.
Nigel